Thermoforming works by drawing hot thermoplastic sheets around a mold. Next, any remaining air is sucked out to ensure consistent definition. The
product is then taken off the mold and excess plastic is trimmed and recycled. Thermoforming is ideal for custom trays, packaging, panels and housings.
This fast and inexpensive technology requires less lead time and has lower tooling costs than injection molding. Although thermoforming has some design limitations, it offers a wide variety of materials and provides excellent value for compatible projects.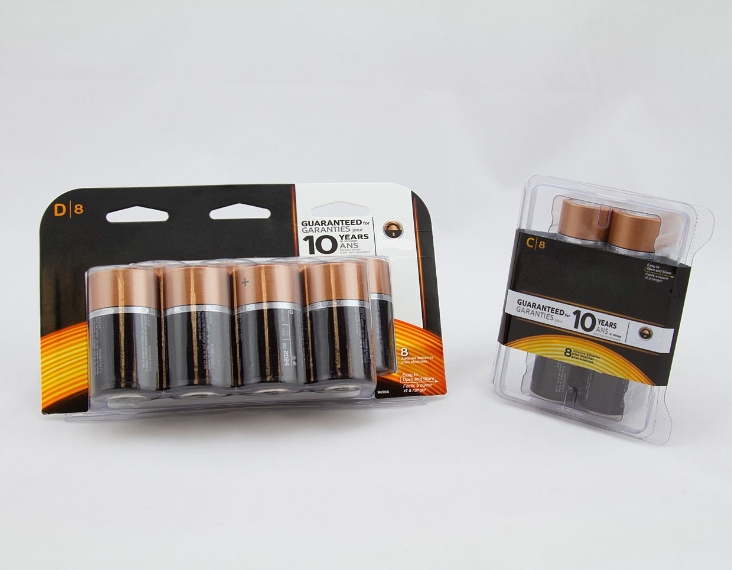 Clamshell
Blister
Tri-Fold
Warehouse Club
RF Sealed
Material Handling Trays
POP Display
Interactive
Carton Inserts
Clamshell
Custom & Innovative
Designs
Comprehensive In-House
Services Offered:
Package Design &
Engineering
Prototype and Production
Tooling
Experienced Designers
Software utilized:


AutoCad
Pro/Engineer
Solidworks
State of the Art Facility
In-house Design & Tooling Dept
5 Inline Sencorp Pressure Formers
Max Area 30" x 35" x 4.5" Deep
5 Machine Tooling Centers
On/Off Line Match Metal Die Cutting
3D Imaging & Prototype Sampling
Max Area 30" x 35"
Production Tooling Processes Utilized:
Aluminum Forming Tool
Assist Ring or Assist Plug
Cutting Die
Cut Anvil
Stripper
Stacker
Match Metal Cutting
Clear, Tinted, Untinted, Natural
PMS Color Matching, High Gloss, Anti-Static & Static Dissapative
.0075" – .060" Thickness
PVC: Poly Vinyl Chloride
Utility High Impact Polystyrene
Virgin High Impact Polystyrene
ABS – Acrylonitrile Butadiene Styrene
HDPE – High Density Polyethylene
LDPE – Low Density Polyethylene
RPET / PET – Recycled and Non Polyethylene Terephthalate
PETG – Polyethylene Terephthalate Glycol
PP – Polypropylene
PE – Polyethylene
PLA – Polylactic Acid
READY FOR DEUFOL TO TACKLE YOUR TOUGHEST CHALLENGES?
We're always here for you — ready to solve tough packs and defy the limits of what your business can accomplish. To find a solution that fits your needs, schedule a consult with our experts.