The DEUFOL Group is pleased to announce that, in line with the expectations of our clients, we are expanding our global network and opening our branch in Poland. From spring 2021, we will provide our services to all interested clients in the Tri-City (Gdańsk, Sopot, Gdynia).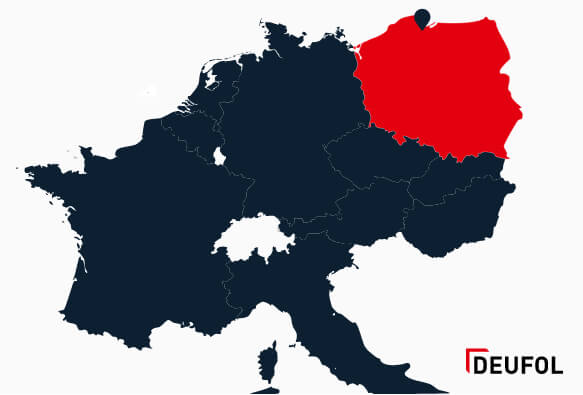 Created by System AutoAdmin
DEUFOL-Polska services will also be provided throughout the country and Gdańsk will be our main operating point. Our professional packing team will be available to every partner in every corner of Poland. The DEUFOL Group is a world leader in supply chain solutions and packaging for industrial goods, and in line with the company's policy, it is constantly expanding its global network.
A strong and growing business country
Poland as a dynamically developing country with a constant increase in exports and growing customer needs for existing as well as new partners is an obvious choice and place for the latest strategic organic expansion of the DEUFOL group. Many years of experience and innovative solutions that are appreciated by DEUFOL'S customers and partners will now be available on the Polish market like comprehensive solutions in the field of securing goods and industrial packaging, supplemented with loading and stowage of sea containers, support for logistics and transport, solutions within the supply chain of our partners. The Polish branch, drawing on knowledge from all subsidiaries of the group on the global market, will not only offer the latest solutions and effective methods, but will also have an experienced crew and modern equipment.
Prepared to support you with our comprehensive supply chain portfolio
We are ready for action and support you to pack and secure machines as well as devices intended for export. We prepare comprehensive solutions so that your goods reach their destination without damage or problems. We provide services throughout the country in designated locations as well as in our warehouse. In accordance with international standards, we also provide safe and proven services using the highest quality products.
Dedicated transport crates and shrink foil packaging for your industrial goods
We design and build certified wooden crates for international transport for individual needs. Our boxes meet stringent requirements for wood processing and durability. We make all types of boxes with attention to detail and quality without any size restrictions. At the same time, we provide services of shrink wrapping machines and devices with the possibility of anti-corrosion protection. Packing any type of cargo, including oversized cargo.
Your partner for container services in Poland
To also support you with your challenges in internal transport, we offer the right solutions for your containers. We carry out loading and reloading as well as stowage of all types of sea containers in accordance with the IMO / Solas guidelines. In this way, we offer you significantly higher cargo efficiency and reduce your costs as well as CO2 emissions at the same time.
Our mobile packaging units are also in action for you
We can prepare your goods for transport with our mobile packaging buses wherever they are in Poland, ensuring that they arrive at the right place, at the right time, in the right quantity, with the right quality and at the right cost. No matter whether the goods need to be packaged in your warehouse, a factory hall of your supplier or in a harbour, we assist you with our professional packaging services at our newest location.