Holistic warehouse management for your logistics challenges
Complex storage requirements? DEUFOL supports you with the right services to relieve the pressure on your storage space.
Storage service from a single source
You do not have enough storage space to stock all the necessary components and products? DEUFOL offers you the right solution! We provide you with storage space so that your valuable production areas are relieved. Let us help you meet all your scheduling and geographical requirements at any time.
Mobile scan data recording
We provide maximum visibility with our mobile scan data recording your incoming goods, warehouse movements and outgoing goods.
Commissioning and storage strategies
For racking, flooring, air conditioning and cooling, we support you with individual commissioning and storage strategies.
Streamlined and transparent processes
Our processes are optimised to ensure that we always guarantee our customers the highest level of efficiency and flexibility.
Maximum performance in your warehouse
Our warehouse management guarantees you excellent control and flexibility of your internal transport. It does not matter whether you manage just one warehouse or several warehouses – we use innovative services and intelligent IT Solutions that take your warehouse management to the next level.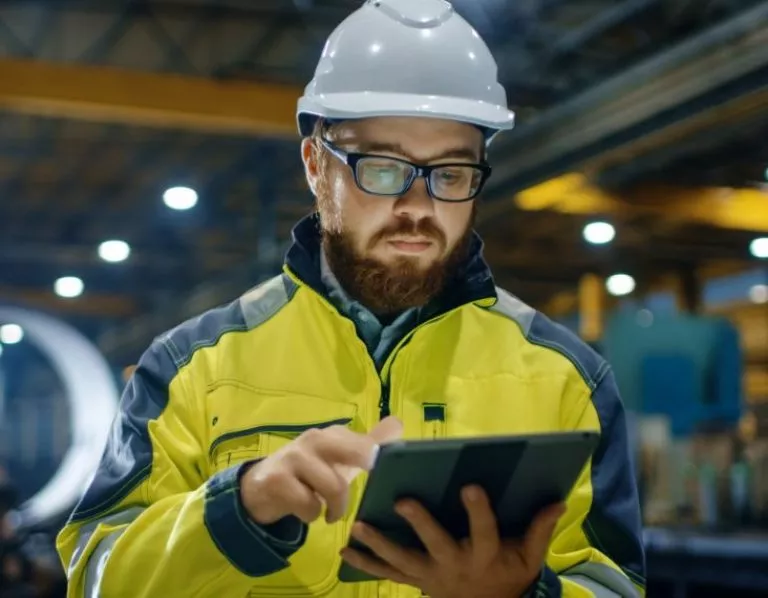 Your Advantages of DEUFOL Warehouse Management
Your specialist for warehouse management systems
The DEUFOL team will be pleased to take over your holistic warehouse management. We will also be glad to implement comprehensive management across several locations for you in no time at all.
One thing is clear: no two warehouses are alike. In addition to different forms of structuring, warehouses can vary particularly strongly in size and in the number of locations. For this reason, an individual approach is important to us. In doing so, we specifically address your requirements, wishes and goals and take into account all set framework conditions.
In addition to holistic management for your warehouses, DEUFOL is happy to provide you with the right software for your logistics challenges. Here, we rely on state-of-the-art technology and intelligent IT solutions that permanently optimise your supply chain. With the help of our software, you can monitor internal warehouse logistics, record goods receipts and goods issues, and check the target and actual stocks in the warehouse, for example, to place a reorder with the purchasing department in good time. This gives you and your company perfect transparency and control.
What does our warehouse management support look like?
With our years of practical experience, we at DEUFOL can offer you the best possible service on the market – from planning and establishing the concepts to the complete organisation of your warehouse.
After an initial weak point analysis, which examines and evaluates all processes in the warehouse, suitable strategies are developed to establish ordering systems, safety and reorder points.
After the introduction of suitable warehouse concepts, processes such as order picking and inventory management are monitored for success and subsequently adjusted if necessary. The monitoring of processes is additionally introduced on a long-term basis in order to be able to guarantee a smooth warehouse operation.
Individual storage concepts: Storage and packaging from a single source
In addition to storage and inventory management, DEUFOL also offers you packaging, transport and logistics services.
Our team specialises in the packaging of large industrial plants with special dimensions, hazardous goods and all other industrial goods. In this context, we not only provide the material, but are also pleased to take care of the packaging, storage and transport management of your goods. The focus is always on safety, flexibility and compliance with general conditions.
Optimised warehouse management
Warehouse management encompasses all processes and systems involved in the procurement and storage of materials or products. In particular, order picking and the optimisation of storage systems are important focus points.
By improving your warehouse, with the help of DEUFOL you can make the right products available at the right time, in the right condition, at the right place, under the condition of minimal storage costs. In this way, you not only guarantee the provision of stock, but also optimise your logistics in order to be able to dispatch deliveries reliably and on time.
Optimised warehouse management, therefore, forms the basis for successful growth and allows you and each employee to continue to focus on the core business and outsource the administration as well as the procurement and movement processes. The DEUFOL team is glad to take on all tasks related to incoming goods, internal and external warehouse logistics, optimisation of warehouse space and, in doing so, always reducing your warehouse costs.
Contact to your specialist for warehouse management
DEUFOL offers companies holistic warehouse management for their logistics challenges and designs individual warehouse concepts. As a specialist for transport packaging and warehouse management, we relieve the burden on your warehouse management with suitable services and take care of the end-to-end handling of your processes.
Would you also like to optimise your warehouse processes and benefit from intelligent warehouse design within your company?
Then get to know our DEUFOL services via our menu and contact our customer service without obligation. Together we can increase the productivity of your warehouse logistics through excellent storage systems. For your individual consultation, please feel free to use the telephone (Mon-Fri) or send us an e-mail via the contact form.
Frequently asked questions about our warehouse management service: