WOODEN PACKAGING BOXES FROM THE EXPERTS
Strong load capacity and high quality
In the realm of wooden packaging, DEUFOL excels in developing and manufacturing industrial packaging solutions. As specialists in the industry, we cater to the unique challenges of professionally packaging your products, ensuring they meet the highest standards. Drawing on our extensive experience and expertise, DEUFOL offers first-class service, underpinned by a commitment to quality and durability in every wooden box, crate, or pallet we produce.
At DEUFOL, safety and quality are paramount in our approach to timber packaging. Our professional packaging solutions, including precisely fitting packaging materials, are standard in every project we undertake. Ensuring the safe export of your goods, we offer expert advice for our range of services and products. Our team of experienced professionals is dedicated to addressing your specific packaging needs, specializing in custom solutions that safeguard the quality and integrity of your products during transport.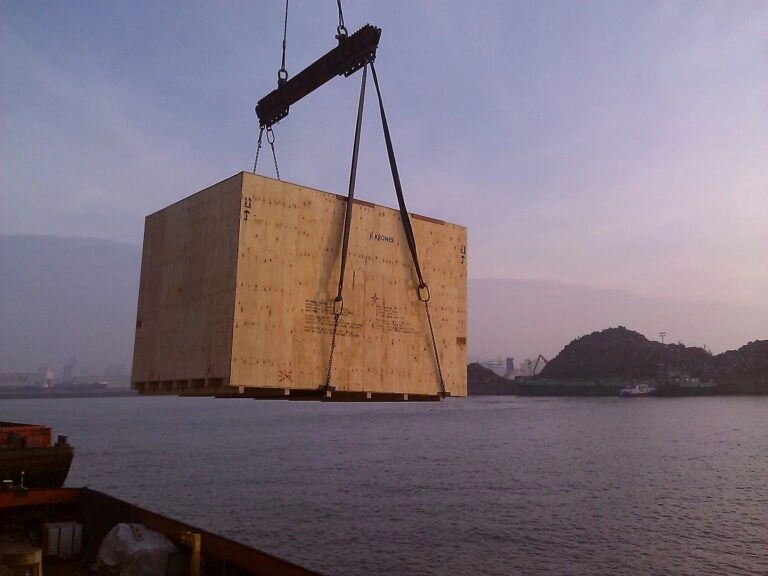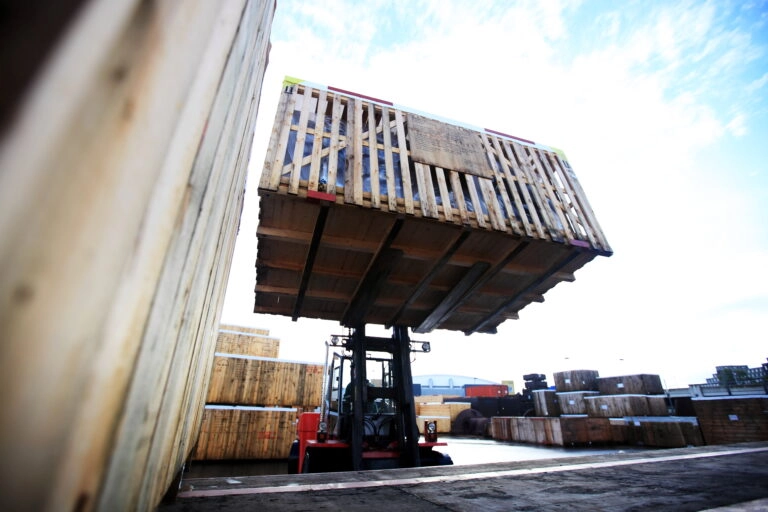 Fast delivery tailored to your specifications
Experience the benefits of our extensive range of packaging, including our specially developed wooden packaging, designed to meet diverse export packing specifications. With our rapid delivery services, you have access to top-quality packaging solutions. As your dedicated packaging partner, DEUFOL operates in Germany and 11 other countries, with a strong presence at over 90 locations worldwide, ready to meet your packaging needs promptly.
Wooden packaging for shipping and storage of goods
Wooden packaging has become indispensable for industrial transport and the storage of goods, owing to its robustness and stability. Recognized for its versatility, wood is increasingly preferred for its wide range of applications.
At DEUFOL, we have honed our expertise in wooden packaging for logistics and warehousing. Our industrial wooden crates, designed for the safe shipment of sensitive and heavy items, also offer a space-efficient storage solution. The sturdy nature of our wooden packaging provides optimal protection for your goods against external damages.
Advanced production of wooden packaging
At DEUFOL, the manufacturing of our wooden export boxes is carried out using state-of-the-art machinery, reflecting our commitment to high standards in wood processing. We prioritize the use of materials tailored to specific needs, ensuring that every product meets our stringent quality criteria. Additionally, our service includes the timely delivery of these finely crafted products, guaranteeing that your requirements are met promptly and efficiently.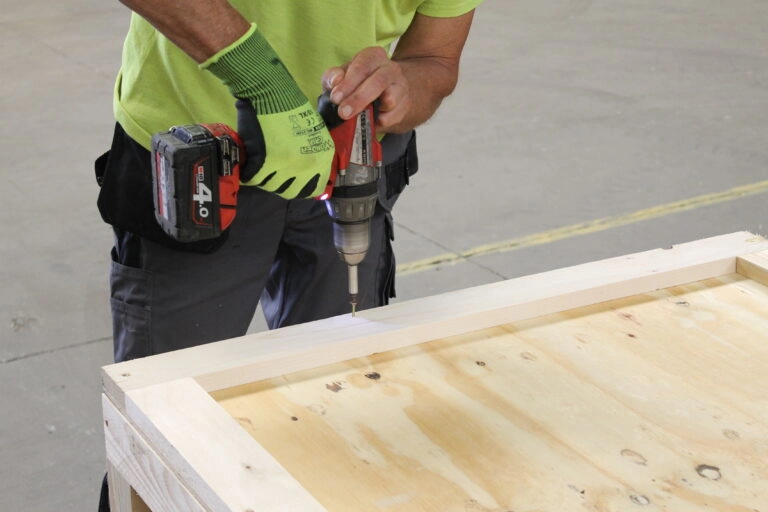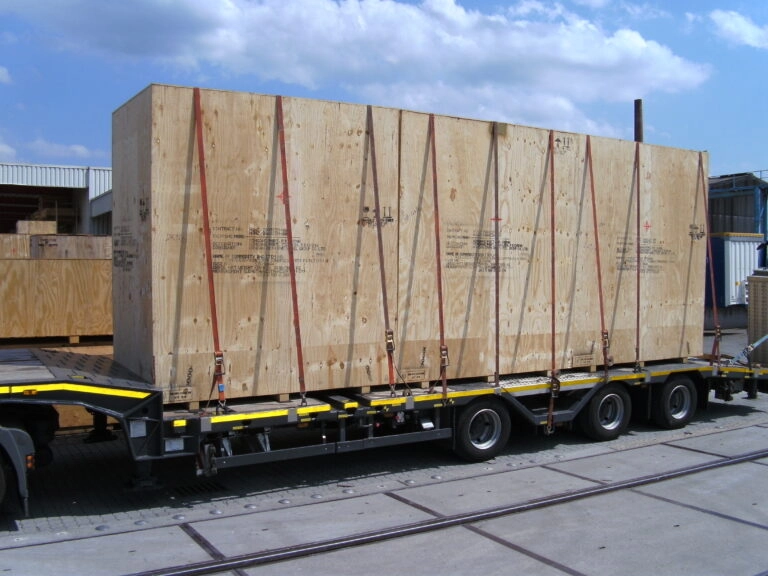 Quality standards of our wooden packaging
Our wooden shipping crates for export adheres to the stringent IPPC (International Plant Protection Convention) standards, ensuring seamless delivery to various destinations. The IPPC's ISPM 15 guidelines – the International Standard for Phytosanitary Measures – mandate specific heat treatments for wooden packaging to prevent pest infestation, ensuring global compliance and safety. Our use of alternative materials in manufacturing means that DEUFOL's wooden packaging often exceeds these standard requirements, providing our clients with products that meet high-quality, safety, and environmental standards without the typical restrictions.
Professional wooden transport boxes
DEUFOL excels in creating custom wooden transport boxes, tailored specifically to meet the unique requirements of each client. Our approach is to develop packaging solutions that fit your needs precisely. We begin by understanding your specific requirements, considering crucial factors like dimensions, weight, deadlines, and the destination country to craft a solution that aligns perfectly with your needs. Additionally, we closely monitor transport route requirements to ensure the safe shipment of your goods.
Customized wooden packaging for specialized needs
DEUFOL specializes in wooden packaging suitable for a broad spectrum of applications, providing expert advice on functional packaging solutions. We stand as a strong partner for our clients, offering tailored services in logistics and warehousing.
Sustainability is a key factor in our production process. DEUFOL's wooden crates, made from sustainable raw materials, have proven to be highly effective for various industrial uses. They provide the ideal conditions for transporting nearly any type of goods and products, ensuring safety and sustainability in every step of the process.
Our transport pallets tailored to your route
DEUFOL goes beyond providing custom packaging and crates; we also offer matching boxes, container bases, and transport pallets, ensuring safe and efficient transport of your products. Our high-performance packaging solutions are designed to meet all kinds of requirements and situations. Whether it's for rail, ship, air freight, or truck transport, we equip you with the right products for your specific transport route, enhancing both safety and efficiency.
As a valued DEUFOL customer, you have the opportunity to combine our products and services, reaping the benefits of efficient synergy and cost-effectiveness.
Expert guidance on selecting the ideal wooden crate or pallet
DEUFOL is your global go-to source for high-performance wooden packaging. We offer comprehensive support and information to our customers on packaging materials, wood processing, and wooden packaging tailored to your specific product. Our team is dedicated to helping you find the perfect wooden crate or pallet, with each designed and crafted to ensure the utmost protection of your goods. At DEUFOL, safeguarding your products for safe and flawless delivery is our utmost priority, and our products and services are thoughtfully created to work seamlessly together.
Rely on our professional advice and benefit from our extensive experience in the field of industrial packaging. DEUFOL is here to assist you with any queries related to selecting the most suitable wooden crate or pallet for your industrial goods.
Ensuring timely delivery and handling partial shipments
DEUFOL is committed to meeting your delivery schedules and the dynamic requirements of flexible transport. We provide you with products that perfectly suit your needs and ensure swift delivery to accommodate your specific demands. Catering to partial deliveries is an integral part of our service, offering you maximum flexibility and prompt response to your requirements.
Our standardized packaging solutions, like the DEUFOL System Box and ConPal, are produced in bulk and readily available in our warehouses. This availability allows us to guarantee rapid response times and direct supply of the right wooden box or pallet, ensuring your delivery deadlines are always met.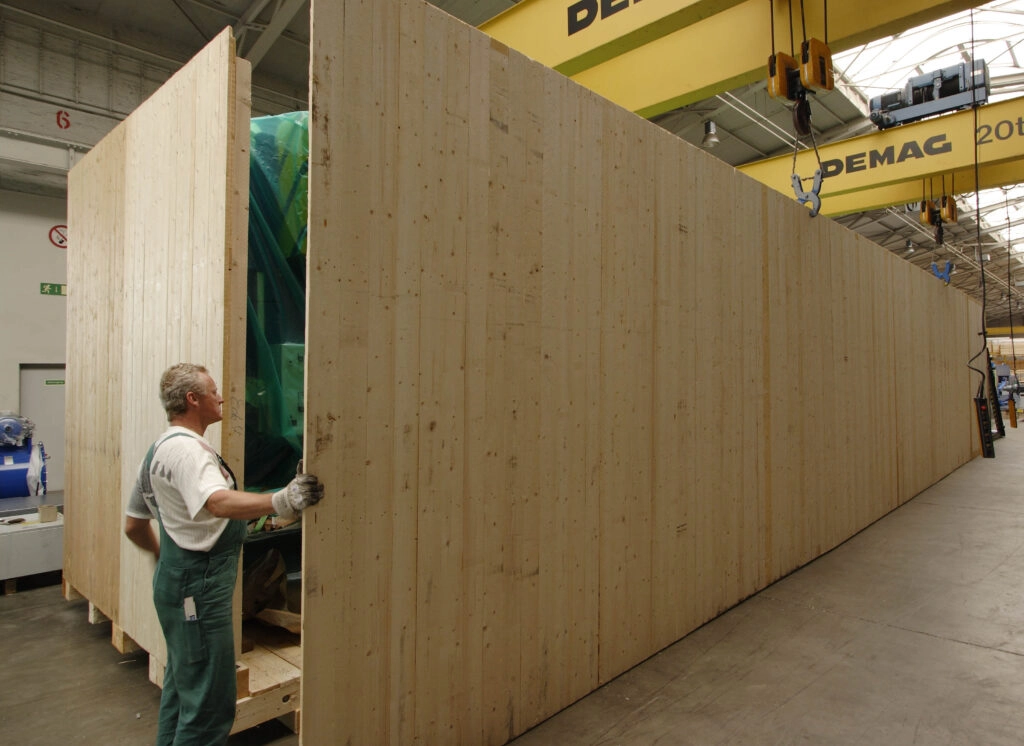 Do you require more detailed information or have specific queries that bespeak your business's unique packaging needs? Please don't hesitate to get in touch with us. You can call us directly or conveniently use our contact form for any questions or requirements you may have. Our team is committed to providing personalized assistance and information tailored to the specific demands of your business, wherever you are.