Breakbulk Bremerhaven: Our all-in-one hub in a strategically advantageous location
HUB solutions for your breakbulk - Bremerhaven is one of the largest ports in Europe. On an extensive area in the area close to the port, we professionally prepare your goods for your transport from a single source.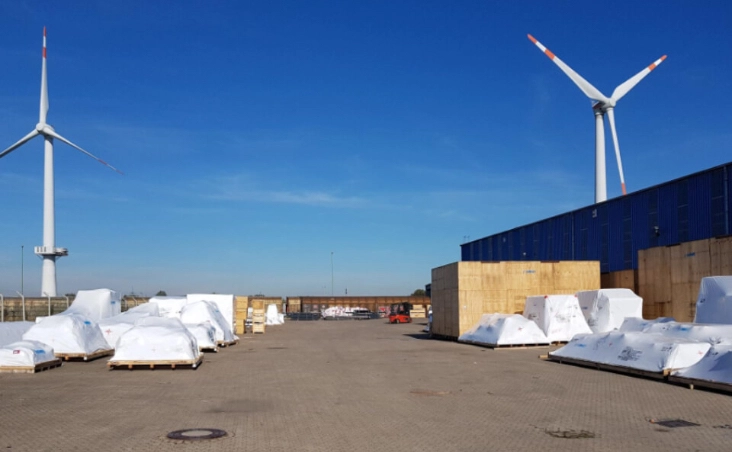 High-performance HUB for your projects in Bremerhaven
Are you looking for a contact partner to relieve you of your logistics projects and breakbulk cargo in Bremerhaven? Our broad-based location team is pleased to be flexibly available to you at any time. Regardless of whether you need support in organising conventional breakbulk cargo or whether you want us to help optimise your container stowage. We are the right contact in Bremerhaven and offer you the proper services for your individual requirements.
No matter whether in a container or as general cargo - we support you
The majority of globally traded goods are loaded into containers and shipped in a standardised manner in Bremerhaven and other ports. But: every commodity is different – due to size, weight, nature or quantity. As soon as breakbulk cargo is transported, multifunctional terminals such as our Seaport-HUB are in demand. DEUFOL has the know-how for handling general and heavy cargo.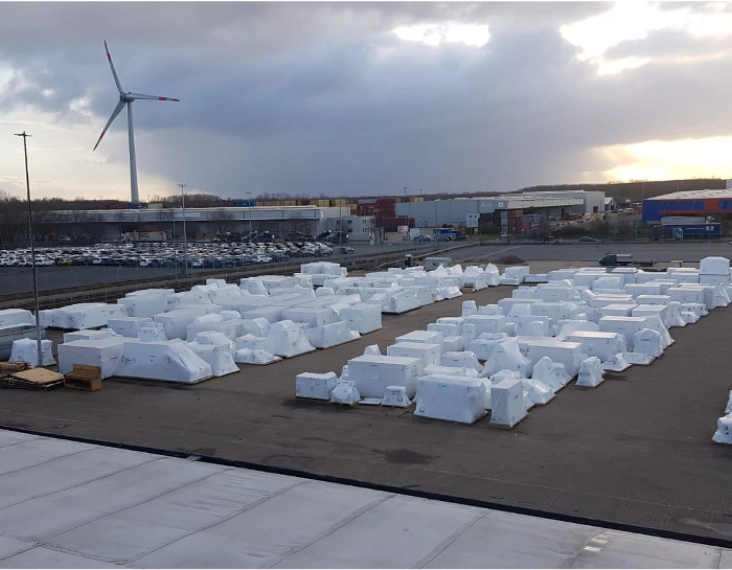 Our service portfolio at the terminal in Bremerhaven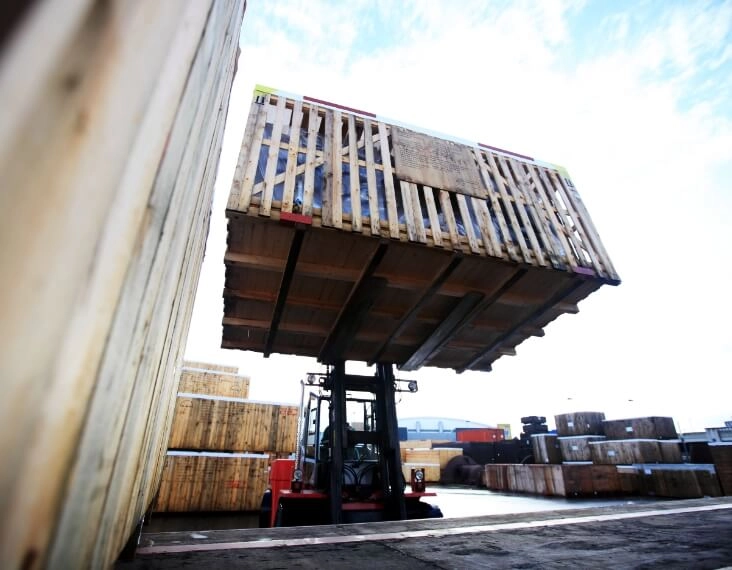 Your breakbulk transport expert
As specialists in liner, general cargo and charter transport, we know: There are goods for which handling and transport in standard containers is unsuitable. This is why DEUFOL Bremerhaven offers individual logistics solutions for breakbulk handling and transport at the HUB location. If steel, iron, automotive and forestry products, machines and other heavyweights have to be transported individually, experience and competence are in demand.
Flexibility is required in breakbulk logistics, and DEUFOL offers the right solutions for your breakbulk cargo. Every day, we transfer several tonnes of cargo at the container terminal from the truck directly to the ships in the ports – when it comes to heavy-lift logistics, we are prepared for heavy machinery and goods. With special equipment and many years of experience, we also load your breakbulk and ensure safe transport on roads and at sea.
High & heavy, general cargo and more
We have years of experience in loading heavy goods and offer a wide range of solutions for high & heavy logistics. No matter whether it is steel products weighing tonnes, forestry goods or oversized project cargo – we take care of the safe transport of your goods. Our high-quality equipment and the know-how of our team are at your disposal at our terminal in Bremerhaven.
The port terminals, facilities and halls carry millions of tonnes of steel every year and therefore offer ideal conditions for our breakbulk services. For the loading of containers and breakbulk cargo, a number of high & heavy forklifts are ready to safely load any heavy cargo onto the ships.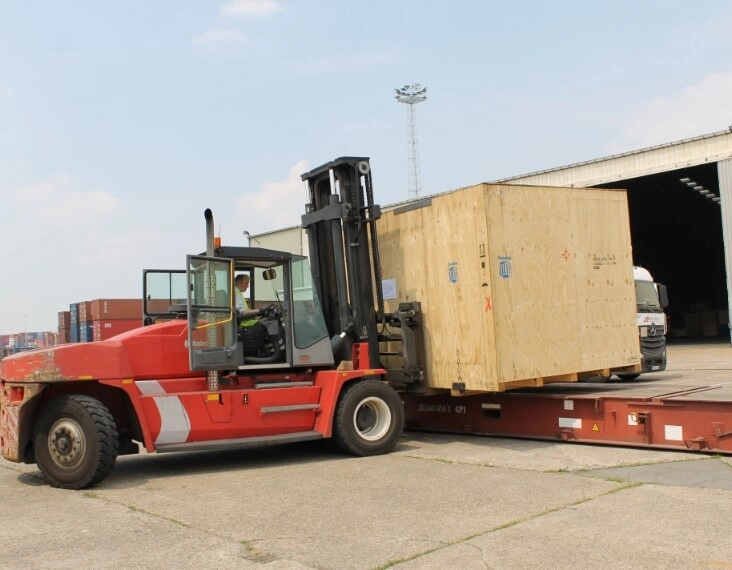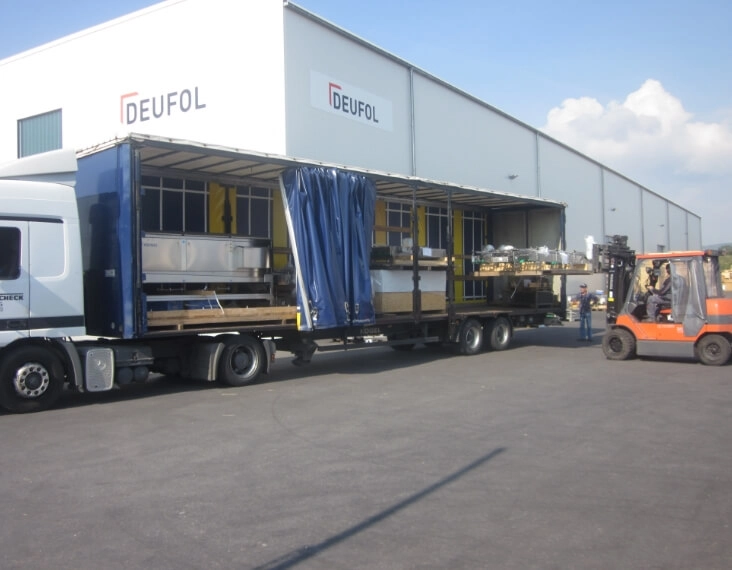 Industrial packaging & special goods
We are also available at the port terminal for handling project logistics such as rolling or moving RoRo goods. We offer special flatrack containers for this purpose. With DEUFOL, even bulky and heavy loads such as large components are transported safely and on schedule.
In the field of industrial and special packaging, we are well-equipped and find packaging solutions for products of all kinds, including hazardous or heavy goods. In this way, DEUFOL is pleased to take over the entire process for you – punctually, safely and, of course, professionally.
Conveniently located in Bremerhaven
Our HUB location in Bremerhaven is situated in an easily accessible location and thus offers a very short distance to all other container terminals. This not only eliminates costs and additional work for you during production at the port, but also results in significantly fewer delays in the process. This means you can plan your project efficiently in advance.
The port on the Weser is one of Europe's performance centres when it comes to project logistics in the field of mechanical and plant engineering.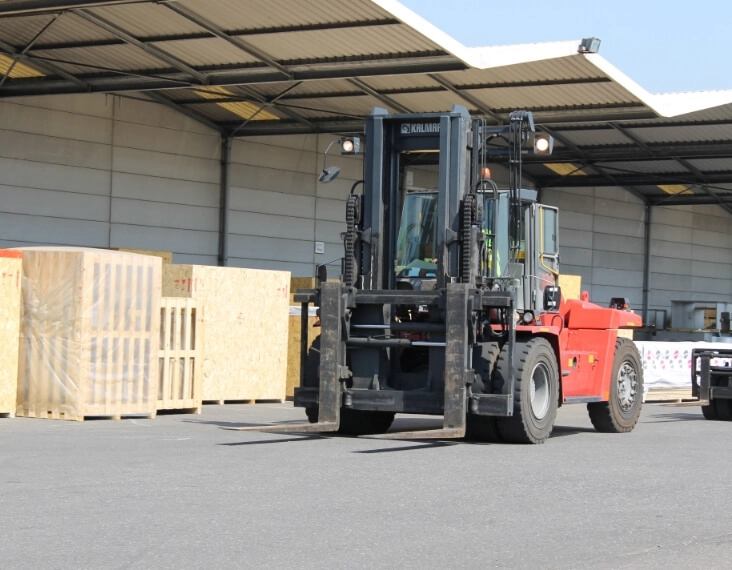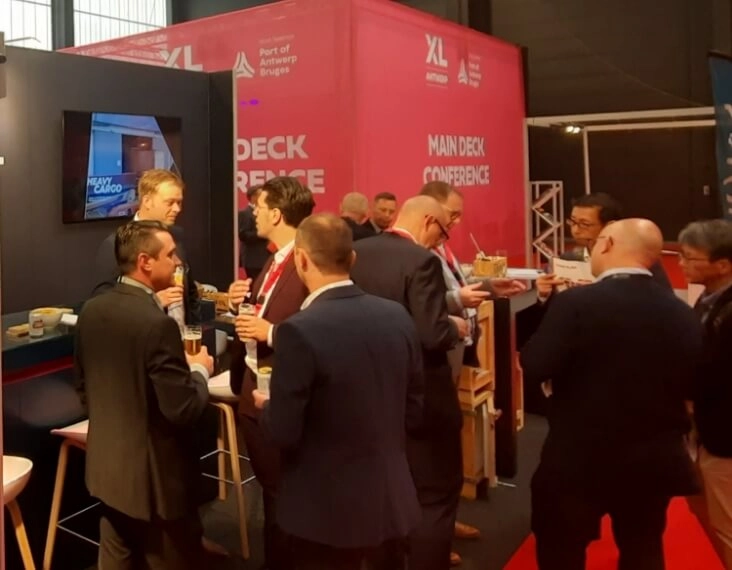 We are also exhibiting at the Breakbulk Europe fair
The importance of the port in and around Bremen for DEUFOL and the breakbulk business was demonstrated by Breakbulk Europe – the largest trade fair in the international general cargo and heavy lift logistics industry. Breakbulk Europe took place in Bremen for the first time in 2018 and more than 10,000 visitors were able to see the services of DEUFOL for themselves at our joint stand. As a result, Breakbulk Europe outshone everything and was the largest trade fair ever held in Bremen at the time.
Two Cities, One Port – with the new motto, the port terminals are moving closer together not only at the joint stand and in the exhibition halls, but also in the port industry in Bremen, even after the Corona crisis. The new chapter around the Neustadt port in Bremen is a forward-looking development that we are also promoting.
Get to know your future logistics partner DEUFOL at the next Breakbulk Europe. We warmly invite you to visit us at our stand and receive expert advice on the loading of general and heavy cargo as well as other goods at our port terminals.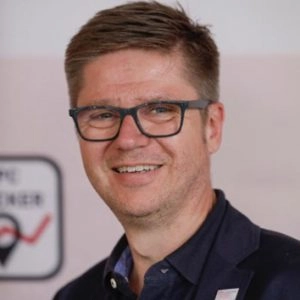 Dirk Wülfing
Corporate Manager Business Development
Deufol Hamburg GmbH
Grauwallring 32
27580 Bremerhaven
Deutschland
Our one-of-a-kind network of global HUB solutions
Whether for industry, retail or numerous other sectors – with our global HUB locations, we offer our clients from a wide range of industries the right services for your successful transport.
It does not matter whether you are looking for professional packaging for your breakbulk, expert solutions for more sustainability or a storage location for your goods – thanks to our global network of intelligently located HUBs, DEUFOL is equipped with everything you need to get your goods to the right destination safely and professionally.
Our DEUFOL HUBs in Europe